The popular mass marketer chain, Target, buys beauty products from over 7,500 suppliers. According to their new rules all of these companies will have to comply with Target's sustainability requirements. Is this a good thing for consumers? Listen to this week's show to find out.
Show notes
CosmeticDesign recently published an article about Target's new "transparency" ratings. Follow the link to read the entire article. Target's intention is to provide "industrywide clarity around what really makes a product sustainable." Also according to Data monitor many Americans "30% of Americans are concerned about the credibility of natural and organic claims on cosmetics."
The buzz word for bringing clarity to some of these claims is "transparency" and Target is instituting a program where they collect information from all their suppliers of personal care products and then they'll tell their customers how "good" the product is on a 100 point scale.
A good sustainability resting scale should not simply consist of "natural is good, synthetic is bad." Rather it should rate a company on a variety of measures as established by the Global Reporting Initative:
Raw Materials (chemicals and packaging)
Water sources (including amount recycled)
Biodiversity (how well they protect the ecosystem)
Greenhouse gas emission (CO2 and ozone depleting substances)
Chemical waste (total amount as well as initiatives to mitigate environmental effects)
In our next episode we'll talk about why so many companies are still "greenwashing" their products. If you can't wait until next week to hear us talk about greenwashing you can buy our new book right now and read all about it.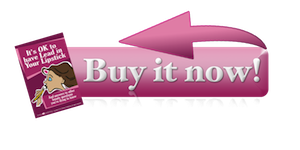 Buy your copy of It's OK to Have Lead in Your Lipstick to learn more about:
Clever lies that the beauty companies tell you.
The straight scoop of which beauty myths are true and which are just urban legends.
Which ingredients are really scary and which ones are just scaremongering by the media to incite an irrational fear of chemicals.
How to tell the difference between the products that are really green and the ones that are just trying to get more of your hard earned money by labeling them "natural" or "organic.
Click here for all the The Beauty Brains podcasts.