You can save a ton of money buying the "house brands" instead of the more expensive brand name beauty products right? The answer is, it depends. You need to really look at the label to make sure the ingredients match. Just because the so-called "generic" brand has a similar name, similar claims and similar packaging doesn't automatically mean it has the same ingredients.
For example, take a look at Studio 35 Beauty's version of Olay's Regenerist Micro Sculpting cream.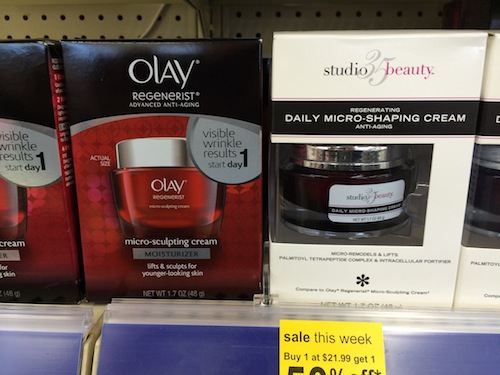 Compare names
Regenerist Micro Sculpting cream vs Regenerating Daily Micro-shaping Cream
Compare claims
"Lifts and sculpts for younger looking skin" vs "micro-remodels and lifts."  The asterisk even instructs us to "compare to Olay Regenerist Micro Sculpting Cream."
Compare price
The Olay product is about $29 for 1.7 ounces while the Studio 35 product is only $22 for 1.7 oz. (Actually it's on sale you can get a second jar for 50% off). It looks like a pretty good deal until you compare the ingredients.
Compare ingredients
As you can see from the lists below, the first 10 ingredients are identical – with one very important exception. The third ingredient in the Olay product, Niacinamide, is completely missing from the Studio 35 Beauty product. And guess which ingredient the only proven anti-aging ingredient in the Olay formula. That's right – niacinamide. Other than retinol, niacinimade is one of the best studied and most effective anti-aging ingredients. It's capable of brightening the complexion, erasing wrinkles, reducing transepidermal water loss, improving elasticity, and fighting inflammation. Without that ingredient this product isn't much more than a really good moisturizer.
So be careful out there! It's easy to be duped by deceptive drugstore doubles.
Olay Regenerist Micro Sculpting Cream ingredients
Water, Glycerin, Isohexadecane, Niacinamide (Vitamin B3), Isopropyl Isostearate, Aluminum Starch Octenylsuccinate, Nylon 12, Dimethicone, Tocopheryl Acetate (Vitamin E), Panthenol (Pro-Vitamin B5), Sodium Hyaluronate (Hyaluronic Acid), Palmitoyl Pentapeptide 4, Carnosine (Amino-Peptide), Camellia Sinensis (Green Tea) Leaf Extract (Green Tea), Aloe Vera (Aloe Barbadensis) Leaf Juice (Aloe Vera), Elastin, Allantoin (Comfrey Root), Stearyl Alcohol, Polyethylene, Cetearyl Alcohol, Sodium Acrylates Copolymer, Behenyl Alcohol, Benzyl Alcohol, Capric/Caprylic Stearic Triglyceride, Polyacrylamide, Dimethiconol, PEG 100 Stearate, Stearic Acid, Disodium EDTA, Cetearyl Glucoside, Cetearyl Alcohol, Citric Acid, C12 13 Pareth 3, Laureth 7, C13 14 Isoparaffin, Sodium Hydroxide, Ammonium Polyacrylate, Phenoxyethanol, Sorbic Acid (A Preservative), Butylparaben, Ethylparaben, Isobutylparaben, Methylparaben, Propylparaben, Sodium Benzoate, Mica, Tin Oxide, Titanium Dioxide, Fragrance
Studio 35 Beauty Regenerating Daily Micro-shaping Cream
Water, Glycerin, Isohexadecane, Isopropyl Isostearate, Aluminum Starch Octenylsuccinate, Nylon 12, Dimethicone, Tocopheryl Acetate, Panthenol, Sodium Hyaluronate, Dipeptide 2, Palmitoyl Tetrapeptide 7, Palmitoyl Oligopeptide, Carnosine, Camellia Sinensis Leaf Extract, Aloe Barbadensis Leaf Juice, Gynostemma Pentaphyllum Extract, Soluble Collagen, Hydrolyzed Elastin, Helianthus Annuus (Sunflower) Seed Oil, Lecithin, Yeast Extract, Allantoin, Stearyl Alcohol, Butylene Glycol, Plyethylene, Cetyl Alcohol, Carbomer, Sodium Acrylates Copolymer, Behenyl Alcohol, Caprylic/Capric Triglyceride, Polyacrylamide, Dimethiconol, PEG 100 Stearate, Stearic Acid, Disodium EDTA, Cetearyl Glucoside, Cetearyl Alcohol, Citric Acid, C12 13 Pareth 3, Laureth 7, C13 14 Isoparaffin, Sodium Hydroxide, Ammonium Polyacrylate, Steareth 20, Polysorbate 20, Hesperidin Methyl Chalcone, N Hydroxysuccinimide, Chrysin, Phenoxyethanol, Sorbic Acid, Butylparaben, Ethylparaben, Isobutylparaben, Methylparaben, Propylparaben, Sodium Benzoate, Mica, Titanium Dioxide, Iron Oxides, Fragrance