While shopping in my local Sears I noticed an interesting collection of candy themed children's cosmetics. They were branded with the names and logos of famous sweets like "Nerds." The nail polish caught my eye since I thought that, given all the concern over the "toxic trio" in nail polishes, wouldn't it be terrible if some little kid swallowed some of this product?  So, in a moment of abandon I pulled out my iPhone and posted the following to FaceBook:
"Isn't this candy inspired nail polish just begging for a call to the poison control center?"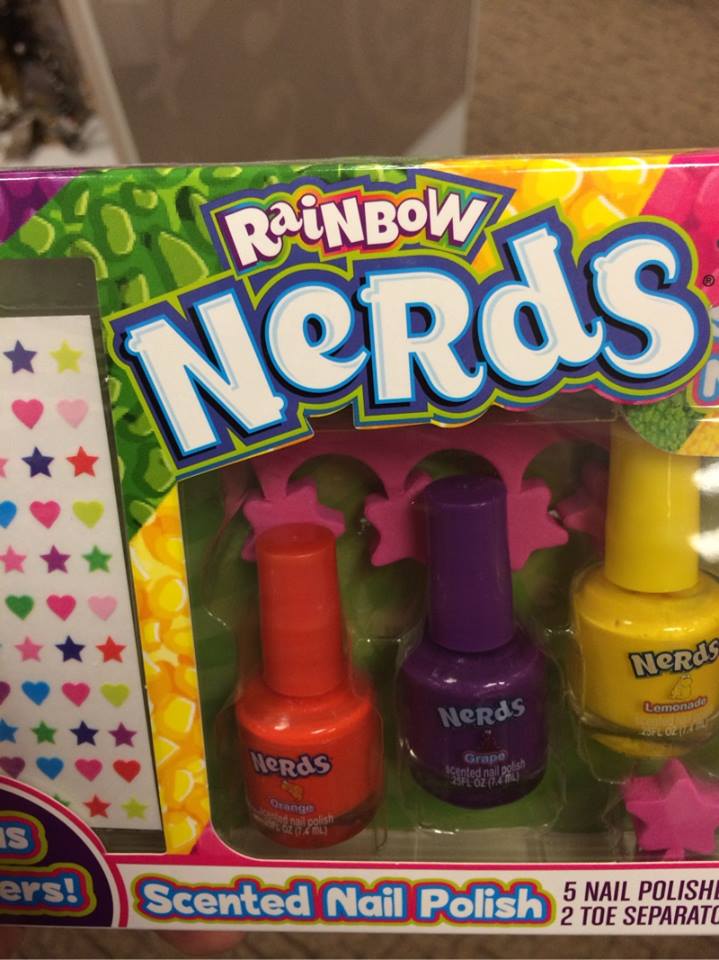 After a closer look I realized this was a special non-toxic formula made for kids but it was too late. Comments were already being posted in response:
First, Vanessa accused me of being boring.
Vanessa: People…why are you so serious and boring just because of a nail polish inspired in a big company? Stop being serious about everything.
I think this is the first time accused I've being too serious when it comes to safety of cosmetic products. More often I'm accused of being paid off by big cosmetic companies to say that all products are safe. Go figure. BTW, have you seen those brightly colored laundry detergent pods? Since early 2012, poison-control centers nationwide have received reports of nearly 7,700 pod-related exposures to children age 5 years and younger.
Next came a series of "this isn't really a problem" comments.
Natalia: They are water based and no more dangerous than Crayolas which American children seem to munch on all the time
You're right the products are water based and "non-toxic." Still, they use the colorants which are NOT approved for use in products which are ingested.
Jasmyn: It clearly looks like nail polish and stickers to me, and is not sold in the confectionery isle, so I don't understand how a parent could be confused that this is a food item and feed it to their children??
The concern is not that the parents will be confused and feed it to their kids. It's that very young kids may find the product within their reach and try to consume it, thinking it's candy. Little kids can't read the label or know which section of the store the product was purchased in.
Joelene: If they [children] can't read the labels why would they assume these particular bottles of polish are edible over other bottles?
A. Because even if though kids can't read they might recognize the logo/packaging from their favorite candy.
B. The polishes are candy scented which could make them more attractive without seeing the label.
Jasmyn again: My comment stands. I see absolutely no difference in leaving this product around as to leaving ANY cosmetic item around. If you have young children and don't want them to eat nail polish, lipstick, batteries etc. then don't leave it within reach? P.S. If they are that young then how will they get the bottle open?
I could argue that since this product is deliberately designed to look like candy that the risk is higher. And P.S., an older sibling could play with the nail polish and leave the open bottle unattended. A younger sibling could then see and smell the product, assume it's candy, and start to chow down.
What is really in this stuff?
Ironically, after looking at the ingredients, I agree this is probably much ado about nothing. The product is certainly not going to kill anybody. Here is the complete ingredient list:
Water (Aqua), PVP, Acrylates Copolymer, Propylene Glycol, Fragrance (Parfum), Triethanolamine, Imidazolidinyl Urea, Disodium EDTA. May Contain [+/-]: Mica, Titanium Dioxide (CI 77891), Ferric Ferrocyanide (CI 77510), Red 6 (CI 15850), Red 7 (CI 15850), Red 34 (CI 15880), Red 36 (CI 12085), Yellow 5 (CI 19140), Violet 2 (CI 60725), Green 6 (CI 61565), Black 2 (CI 77266).
It's probably about as dangerous as eating glue. But in a world where people FREAK OUT because of microscopic amounts of lead in lipstick, you think they'd also worry about a product such as this which uses colorants that are NOT approved for ingestion: D&C Red 6, D&C Violet #2, D&D Green #6 . (Interestingly, the product does containing a warning to keep away from kids under 3 because it contains small parts.)
The Beauty Brains bottom line
I know my original comment was a bit tongue in cheek but I was in Sears and I was bored. Anyway, I don't think it hurts to remind people to keep brightly colored makeup and household products away from small children who might think they are actually yummy candy. Every year there are a number of calls to poison control centers for this very reason.
Do you have any thoughts on this candy cosmetic conundrum? Leave a comment and share with the rest of the Beauty Brains community.