This week I challenge Perry to another game of Beauty Science or BS. Plus we banter about a bevy of beauty science news stories. 
Show notes
Beauty Science or Bull Sh*t – a special sunscreen-themed episode
Can you guess which one of the following Refinery29 headlines is fake?
Your Hair Products Are Causing Your Scalp Sunburn
Text your way to sunburn free skin
Chemical-Free Sunscreens For A Health-Conscious Summer
Listen to the show for the answer and to find out if you can beat Perry at this game.
Beauty Science News Stories
1. Microbead ban not so bad
A ban on micro beads may not be such a big deal since there's no evidence that the beads do a better job of exfoliating than a regular cleanser with a washcloth.
2. Should titanium dioxide be pulled off the market? 
The Public Interest Alliance (PIA) has won a California lawsuit requiring five leading skin care brands to re-label or remove titanium dioxide (TiO2) from their products. The PIA points to the link between TiO2 inhalation and tumor growth but they admit there's no evidence that products containing TiO2 are dangerous to people. They say they just want to raise awareness of the safety issue.  The affected brands include DermaQuest, Dr. Hauschka Skincare, Melaleuca and Murad.
3. Is feline acne a thing?
Yes, your cat can get acne. Especially if it has bad hygiene. And, no, you don't need to put benzoyl peroxide on its whiskers.
4. Is Abercrombie's scent making you sick?
Abercrombie's Fierce fragrance is making shoppers anxious, according to researchers at Concordia University in Canada. Professor Bianca Grohmann says that if a scent is mismatched to the space it is smelled in, it will increase anxiety. For example, "open" smells like the seashore or apple orchards, shouldn't be used in enclosed spaces. Likewise "indoor" scents, like buttered popcorn or firewood shouldn't be used outside. Abercrombie has announced it would cut its fragrance emissions by 25 percent.
5. Is Neutrogena's Cloudscreen just a smokescreen?
Neutrogena is marketing a standard sunscreen product as a "cloud screen" that's meant to protect your skin from the sun on cloudy days. Is this a legitimate attempt to get people to use more sunscreen or just more marketing BS?
6. Salon brands are not always who you think.
Salon hair care brands are fiercely independent using cutting edge knowledge….right? Well 3 salon brands were just gobbled up by the German surfactant company Henkel: Alterna, SexyHair and Kenra in $370 million deal.
Henkel also owns Dial, Schwarzkopf, Right Guard, and Got2Be (to name a few.)
7. The genetics of  being blonde
Just a single mutation on a gene determines if you have blonde hair. (This is called a single nucleotide polymorphisms, or SNIPs for short.) Even though most humans have the same basic genetic makeup, SNIPs make us all different. In the future could you make yourself a blonde through genetic manipulation?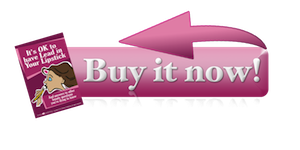 Buy your copy of It's OK to Have Lead in Your Lipstick to learn more about:
Clever lies that the beauty companies tell you.
The straight scoop of which beauty myths are true and which are just urban legends.
Which ingredients are really scary and which ones are just scaremongering by the media to incite an irrational fear of chemicals.
How to tell the difference between the products that are really green and the ones that are just trying to get more of your hard earned money by labeling them "natural" or "organic.
Click here for all the The Beauty Brains podcasts.