Do you ever wonder about all those cosmetic ingredients you slather on your body everyday? Here's a resource that you'll find very helpful.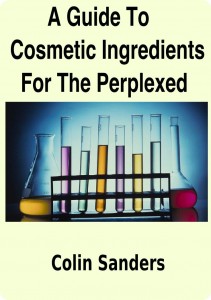 Fellow cosmetic scientist and friend of the Brains, Colin Sanders, has just released "A Guide to Cosmetic Ingredients for the Perplexed." Colin calls this a "mini-book" but it covers nearly 50 different ingredients in as many pages so it's packed with useful information. Vitamins, oils, waxes, anti-aging ingredients are all touched on here.
If you want to be more educated about the beauty products you buy check it out!
If you're in the U.S., buy A Guide To Cosmetic Ingredients For The Perplexed
 here.
If you're one of those U.K. blokes (is that the right term?) you should go here.