One of the core themes we talk about here on the Beauty Brains  is how to save money by finding less expensive versions of premium products. So when we were contacted by Lizzy, the inventor of the Super Duper nail polish app, you can imagine our how intrigued we were.
What is Super Duper?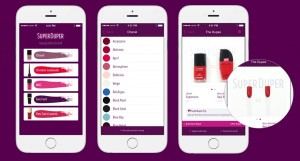 The idea behind Lizzy's app is simple. You enter your favorite premium nail polish product and the app will spit out a comparable nail polish color from a much cheaper brand.  Super Duper is smartly designed, it seems to work quite well, and best of all it's free.
(Note: Smart phone beauty apps are not always that great. For example there's the "Think Dirty" app that claims it can help spot products with dangerous ingredients. Unfortunately, as we talked about before, determining the safety of a cosmetic product is not nearly that simple!)
Kudos to Lizzy for putting "beauty before brands" and we wish her luck with future efforts to save consumers money. You can get Super Duper here.
Do you have any favorite beauty themed smart phone apps that you like? Leave a comment and share your favorites with the rest of the Beauty Brains community.