Today is Easter so we're re-running one of our favorite egg-themed posts.
Spring is here and today is the day the Easter Bunny leaves a little surprise on your doorstep. No, we don't mean rabbit pellets, silly, we're talking about Easter eggs! To commemorate the occasion, here are our top 5 favorite facts about eggs in cosmetics.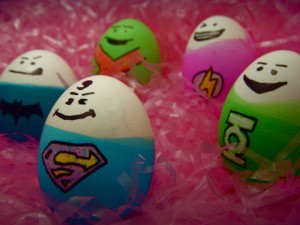 1. Beware Botox
The popular wrinkle paralyzing treatment, Botox, is packed in egg albumin to increase its stability. So if you have an egg allergy – beware the Botox!
2. The awesome ovum
The French company, L'Avenir, has launched a line of products using special technology that allows them to include whole eggs in topical cosmetic formulations. Until now, egg yolks couldn't be used in creams and lotions because they could cause spoilage.
3. Oily eggs
We recently blogged about Phyto Phytonectar Oil Treatment. Did you know one of its ingredients is egg oil? Did you even know you could get oil from an egg? It's true: eggs are rich in cholesterol-type compounds which can be extracted to yield rich emollient oils.
4. Walking on eggshells
We've had a lot of interest in our upcoming project on mineral cosmetics and many mineral cosmetics use calcium carbonate as a base. Guess what? Eggshells are 95% calcium carbonate, so they can be used to make mineral cosmetics.
5. Egg shampoo
Finally and most famously, there's egg shampoo. Our favorite is Mario Badescu's Egg Shampoo. It contains only 4 ingredients: Deionized Water, Ammonium Lauryl Sulfate, Sodium Chloride, and Egg. Mmmm, I bet that smells good!
Happy Easter everyone!