Dafne dares to ask…The other day I bought Luxurious Volume Thickening Blow Dry Lotion by John Frieda. It works, but it feels just like hair spray, looks just like hair spray, and makes your hair sticky like hair spray. Might it actually be hair spray? And if so, can I use just any type of hair spray for this purpose, or this one is actually better than a normal one if it's used during blow drying?
The Beauty Brains respond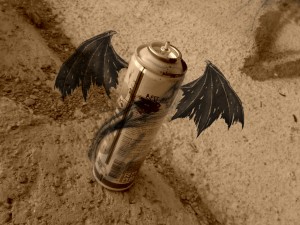 As Dafne pointed out in her original question in our Forum, the product contains the following ingredients:
Alcohol Denat., Aqua, PVP, VP/VA Copolymer, VP/DMAPA Acrylates Copolymer, PEG- 75 Lanolin, Polysorbate 20, Parfum, Butylphenyl Methylpropional, Citronellol, Linalool.
(BTW, we LOVE when our readers do their own ingredient research!)
Blow dry lotion = hairspray
At its core, this is certainly a hairspray. The main ingredients, PVP, VP/VA Copolymer, and VP/DMAPA Acrylates Copolymer, are all hairspray ingredients used to hold the hair in place. But this is a hairspray that's designed to be used during blow drying. It's tough to say without seeing the concentration of each ingredient but it's likely that that the water and alcohol levels (as well as the resins themselves) have been optimized to give you more "play time" during blow drying. You could certainly TRY any old hairspray and see if it works for you but you may find that regular hairspray dries to fast for this kind of application. The worst that can happen is that your hair will end up a tangled mess.
Image credit: http://fc08.deviantart.net/fs35/i/2008/303/e/b/Evil_spray_can_by_djunko.jpg