Bluecatbaby asks…Last year I bought a Remington Wet 2 Straight iron. It is marketed as an iron that can be used on wet hair without causing the damage that other irons cause when used on wet hair. I actually have hardly used it because I am skeptical of its claims and I hate damaging my hair. Still, the user reviews for it are mostly raves. Can it really be used on wet hair without causing damage (beyond that which is caused by any flat iron)?
The Beauty Brains reply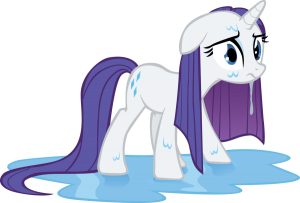 As astute reader AleV pointed out in our Forum: "I don't think this iron causes less damage than any other flat iron. When you apply the kind of heat an iron produces over the wet hair surface the water in it will also reach high temperatures like boiling, this is going to result in some sort of blisters in the cuticle, that means a lot of damage, more than if you use it on dry hair. This damage will occur no matter if the iron is "special" or not, so you better use it on dry hair with a heat protection product or a silicon serum."
We've seen electron micrographs of the kind of damage that this "blister" phenomena causes so we know that's accurate. The big question we have is how is this iron different than others?
Here's what Remington says:
"Steam hydration therapy protects your hair from over-drying during this process by keeping the right amount of moisture locked in, ensuring that your hair stays healthy and sleek. This not only saves you the time of having to blow-dry before straightening, but also is better for your hair."
We don't really know what this means because rapidly heating wet hair with an flat iron is still damaging. Unless Remington is forthcoming with additional information about how this technology works, we agree with AleV's assessment above.
Image credit: http://fc08.deviantart.net/fs70/i/2011/146/8/9/rarity__s_all_wet_by_tecknojock-d3hamzf.png