How does baby foot work?
Leslie asks…Can you please explain how Babyfoot works and if it is truly safe to use. I have used it and my feet did peel but I really don't understand how it works.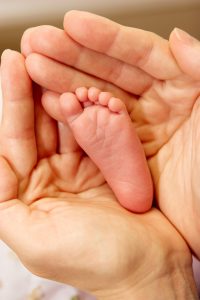 In case our listeners aren't familiar with this product, it's a special type of exfoliator designed just for your feet. For $25 you get two "booties" lined with a gel product.
Here's what the website says about it:
Our scientifically formulated product contains 17 types of natural extracts…
The principal ingredient …is fruit acid which…penetrates into the layers of dead skin cells and breaks down the desmosomes which hold the layers together.
…skin is undamaged but peels easily away from the fresh layer beneath. After peeling, your feet are reborn just like a baby's foot.
Note: Baby Foot must only be used on the feet.
As you can see from the website they're very proud of their 17 natural extracts. But, surprise, the natural extracts have very little to do with how the product actually functions.
Yea, this is a great product in the sense that will do exactly what it says it will. However it doesn't work because of the reason they tell you. If you look at the first two or three ingredients you'll see our old friends glycolic acid and lactic acid. These are both alphahydroxy acids which as most of you probably already know are very good at exfoliating.
AHA's work by loosening the "glue" that holds dead skin cells together and as you strip away that upper layer of dead skin the remaining skin will be very soft and supple. These are sometimes called "Fruit acids" but fruit extracts are not the source of these fruit acids. Fruit acids only occur naturally at very low levels to make commercial quantities of lactic acid, for example, you have to use a large scale fermentation process.
That involves giant vats of sucrose and glucose mixed with lime or chalk. The mixture is fermented in a fermenter until crude calcium lactate is formed. The gypsum is stripped way which leaves crude lactic acid, that in turn is purified and concentrated into the material used in this product. I could go on but I'm already boring myself.
But just because this is based on common alphahydroxy acid's don't think you can use your normal exfoliating face lotion on your feet. This is a case where buying a special product probably is justified.
That's because there are two bits of "magic" that make this product work. First, it's designed only for your feet which tends to have a thicker layer of callused skin so they have formulated the product with higher levels of the alpha hydroxy acids. You could use your regular exfoliating facial on your face and use that on your feet and it may not work very well but it won't hurt you. On the other hand if you use baby foot on your face it could leave you with a chemical burn.
The second bit of magic is the fact that it has an occlusive application method. That's the little plastic sock that you wear after applying the product. This application method accomplishes two things it keeps the solution from evaporating so it stays more active against your skin and it prevents it from being rubbed off presumably while you walked around or put on regular socks or whatever.
So the higher concentration and the occlusive application really boost the efficacy and help this product deliver the softness of the baby's foot. Great. It works. But she also asked if it's safe.
The answer is "mostly yes." Alphahydroxy acid's are used in thousands of products with very little problem. However because this is a higher concentration if you were to have more sensitive skin it is conceivable that you could get a chemical burn on your foot from this. And apparently that indeed has happened to some people.
According to dermatologist Sandra Bendeck, who works with One Medical Group, (http://www.onemedical.com/blog/live-well/baby-foot-safe/) , it's a bit concerning that the company doesn't disclose the level of fruit acids. AHAs are typically used at up to 10% but we don't know HOW much are in this product. She also pointed out that some of the reviews for the product mention side effects like "bleeding, cellulitis, and having to go to the ER after using it." She also says that diabetics, who can have issues with nerve endings in their feet, should not use it.
In addition, according to the Baby Foot website, the product should be avoided "during pregnancy, lactation, or menstruation because during this period the skin becomes more sensitive due to the disruption of normal hormone balance."
Finally, the website also mentions that the product also contains salicylic acid which is classified as a category C drug by the FDA and that animal studies have linked salicylic acid and birth defects.
So the bottom line is that the product does use technology which is very effective although it's rather expensive for what you get. The ingredients it's based on are commonly used in the beauty industry but the concentration and application method MAY cause problems for some people.
Ingredients
Active ingredients: Water, Alcohol, Lactic Acid, Glycolic Acid, Arginine, Butylene Glycol, Peg-60 Hydrogenated Castor Oil, Glucose, O-Cymen-5-Ol, Citric Acid, Malic Acid, Citrus Aurantium Dulcis (Orange) Oil, Citrus Grandis (Grapefruit) Peel Oil, Dipotassium Glycyrrhizate, Cymbopogon Schoenanthus Oil, Nasturtium Officinale Extract, Arctium Lappa Root Extract, Saponaria Officinalis Leaf Extract, Hedera Helix (Ivy) Extract, Salvia Officinalis (Sage) Leaf Extract, Citrus Medica Limonum (Lemon) Fruit Extract, Clematis Vitalba Leaf Extract, Spiraea Ulmaria Flower Extract, Equisetum Arvense Extract, Fucus Vesiculosus Extract, Chamomilla Recutita (Matricaria) Flower Extract, Camellia Sinensis Leaf Extract, Houttuynia Cordata Extract, Phenoxyethanol, Hydroxyethylcellulose, Salicylic Acid
How do makeup setting sprays work?
Roni says…I have a question about makeup setting sprays. I have tried doing half face test and the half with the setting spray wears longs, the makeup looks better at the end of they day. What is making the product do that? Why does it make it last longer?
The name "setting spray" seems a little inaccurate to me. It implies you're doing something to the make up to "cure" it or anchor it to the skin. In reality what you're doing is putting a thin film on top of the make up that helps it remain undisturbed.
That's right. Let's take a look at a couple of products starting with the one emailed us about: Wet N Wild Picture Perfect Setting Spray. (Not Wet And Wild.) The main ingredient is PVP which is a polymer that is a film former. PVP stands for…
Poly Vinyl Pyrrolidone. It's used in in products like mousses and gels to form a film on hair that holds it in place. By the same principle PVP can form a film over your make up that prevents it from smearing or smudging as easily. The disadvantage to PVP is that it's hygroscopic which means that it can absorb moisture from the air which can make it sticky.
In this particular product the PVP is dissolved in a mixture of water and alcohol, which of course will evaporate. The product also contains propylene glycol to plasticize the film and keep it from cracking.
So how do you use this stuff? The website instructs you to…"Hold the setting spray 8 inches away from your face and mist in a criss-cross pattern."
And finally, what about the cost? This Wet N Wild product is relatively inexpensive at $5.00 for 1.5 ounces or about $3.30 per ounce.
Next let's take a look at the Matt Finish Setting Spray from NYX COSMETICS.
This one is based on VP/VA copolymer. You can think of VP/VA copolymer as the next generation of PVP. It provides similar benefits but it is less likely to absorb moisture. That means in hair sprays it provides superior hold. I assume this property would make it better for setting makeup as well.
The instructions are to "Hold 8-10 inches from face, close eyes, and spray in downward motion 3 times to cover entire face." So NOT criss cross but downward motion. Got it.
It sells for $8 for 2 oz or $4.00 an ounce so it's slightly more expensive but it could very well be worth it.
Finally, let's look at an example that uses different technology: URBAN DECAY COSMETICS All Nighter Makeup Setting Spray
It's different it uses a hybrid approach. In addition to PVP for film forming it also contains a couple of fluorinated ethers and a couple of additional polymers. In theory, this kind of system could provide a much more durable, waterproof makeup shield.
The website describes it as a "groundbreaking, clinically tested formula… [that] features patented Temperature Control Technology…. actually lowers the temperature of your makeup to keep foundation, eyeshadow, blush and concealer in place – even in hot and humid or cold and windy conditions.
I don't know about temperature control but it certainly could work better in high humidity.
I was kind of blown away because the website describes a 7-day clinical study the conducted on this product. They found that:
"78% of participants said All Nighter helped their makeup last for 16 hours.
Over 80% said their makeup not only looked better, it stayed on better (even in the T-zone) without settling into fine lines.
88% or more said All Nighter was the best product to help their makeup last."
And just for the record, you're instructed to "mist face 2-4 times, in an "X" and "T" formation." Not criss cross. Not downward motion. Just x and T. Got it?
But here's the catch: The product sells for $30 for 4 oz or about $7.50 per ounce. That's more than twice as much as the Wet N Wild product. Is it twice as good?
If you're really curious I would recommend getting a sample or a tester of the more expensive product at Sephora or someplace and doing your half face test again with the more expensive product versus the cheaper product and see if you see a difference.
Matt Finish Setting Spray from NYX COSMETICS Ingredients
Water / Aqua / Eau, Alcohol, VP / VA Copolymer, Propylene Glycol, Disodium EDTA, Niacinamide, Sodium Salicylate, Plantago Lanceolata Leaf Extract, Mahonia Aquifolium Flower / Leaf / Stem Extract, Phenoxyethanol.
Wet N Wild Ingredients
Water/Eau, Alcohol Denat., PVP, Propanediol, PPG-3 Benzyl Ether Myristate, Dimethicone PEG/PPG-12/4 Phosphate, Glycereth-5 Lactate, Polyhydroxystearic Acid, Chlorphenesin, Ethylhexyl Isononanoate, Isononyl Isononanoate, Poloxamer 127, Sodium Citrate, Sodium Cocamidopropyl PG-Dimonium Chloride Phosphate, Caprylhydroxamic Acid, Aloe Barbadensis Leaf, Dipotassium Glycyrrhizate, PPG-26-Buteth-26, PEG-40 Hydrogenated Castor Oil, Fragrance/Parfum.
Urban Decay Ingredients
Aqua (Water/Eau), Alcohol Denat, Polyhydroxystearic Acid, PVP, Methyl Perfluorobutyl Ether, Methyl Perflouroisobutyl Ether, Dimethicone PEG-7 Phosphate, PPG-3 Benzyl Ether Myristate, Caprylyl Gylcol, Menthyl Methacrylate Cross Polymer, Poloxamer 407, Sodium Hydroxide, Sodium Cocamidopropyl PG Dimonium Chloride Phosphate, Glycereth-5 Lactate, N,2,3-Trimethyl-2-Isopropyl Butamide, Ethylhexyl Isononanoate, Isononyl Isononanoate, Fragrance, Aloe Barbandensis Leaf Extract.
Do sunscreen pills work?
Silvia from Spain says I want to know if sun protection pills really work.
Personally, I think SPF pills are in the realm of quackery but according to the American Academy of Dermatologists there is SOME promising research in this area. https://www.aad.org/media/news-releases/could-protecting-your-skin-from-the-sun-be-as-easy-as-popping-a-pill
Yeah, we found an article from 2014 which quotes a Dr. Lim from the AAD who says that there is SOME data showing that Polypodium leucotomos, an extract of a Central American fern plant, can increase the amount of time it takes for skin to become sunburned. That's in pill form!
According to Dr. Lim…"We're not completely sure how sunscreen pills work, but the main understanding is that Polypodium leucotomos acts as an antioxidant, so it protects the skin from oxidative damage caused by sun exposure,"
Wow, that sounds too good to be true. How much SPF protection does it provide?
It's tough to compare directly because this ingredient is take orally not applied to skin but Dr. Lim says studies estimate it as having an SPF of about 3 to 5. That's WAY less than Academy's recommended SPF level of 30 or higher.
So if the best studied sunscreen pill ingredient MAYBE gives you an SPF of less than 5 it seems kind of pointless. THere's no way that could replace using a sunscreen lotion. At best it might supplement the protection you get from your lotion but not by much. That's assuming of course that the pill you buy even has the right ingredient at the right concentration.
iTunes reviews
JanellyL says…New favorite podcast 5 stars. They provide great insight on how products work and call out what products' claims are bs. Plus they are never boring with their dry humor and sarcastic banter. Another plus is that if you ever have a question, they are so quick with responding to your email.
Slithy tove says…Beauty is a lot more than science 3 stars. It's great to have a resource that encourages consumers to think more critically about the content of the products they buy, and this show has taught me a lot in that respect. But as a woman, sometimes it's hard to listen to two men laugh about how ridiculous beauty marketing can be when most of it is unrelentingly targeted at women's self esteem. For example, when they were discussing unlicensed "butt injections" – a horrifically dangerous practice that disproportionately affects lower income trans women who can't afford to get the procedure done safely – and making callous puns about "the bottom line," the insensitivity made me cringe. Or another direct quote: "If you want to give yourself the best chance of getting a good grade, just make yourself as attractive as possible" (this just after recognizing the same study found this bias didn't apply to male students). I know you guys focus on science and you like to keep things light-hearted, but I often wish you'd recognize there's way more to all of this than chemicals. Marketing hype and unfair biases about beauty come from cultural norms and contexts that can be seriously messed up. (Props to Randy for acknowledging this from time to time.) How about a dedicated regular feature about ridiculous products for men, to balance things out? Or letting your female intern speak on the show? That's what I'd call being even more brainy about your beauty.
Please support the Beauty Brains by signing up for a free audio book at Audible.com.
Click here to get your free audio book.