Is aloe lotion good for skin?
Gemma asks…I am a huge fan of Vaseline Intensive Care Aloe Fresh lotion. However, I have found another aloe lotion that is even cheaper: Perfect Purity. So I'm wondering can you tell me if the Perfect Purity will perform as well as my beloved Vaseline? Or should I just bite the bullet and save my dollars for a big bottle of the Vaseline Aloe Fresh?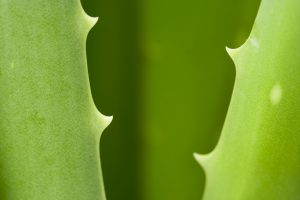 Thanks to Gemma for taking the time to record her question. We can answer this pretty conclusively just based on reviewing the ingredients and we'll cover that first. But then we we want to take this opportunity to talk more about aloe vera itself and discuss why it is (or isn't) so good for your skin. So, let's break down the differences between Vaseline and Perfect Purity.
The Vaseline product contains 4 key moisturizers let's look at each one in order of descending concentration. First there's glycerine. Glycerine is a humectant which means it attract and bind water to skin. That's one of two basic ways that a moisturizer works.
The other way a moisturizer works is to occlude the skin which means it seals the moisture in by preventing evaporation. That's how the second ingredient, mineral oil, works.
The 3rd key ingredient is dimethicone which is a silicone that not only helps seal in moisture but it also protects the skin from detergents and other harsh ingredients. Which is why it's approved by the FDA as a skin protectant.
The 4th ingredient is petrolatum which is one of most effective, if not the most effective, occlusive moisturizing ingredients.
So Vaseline contains a potent cocktail of simple but effective moisturizing agents. Now let's look at all the effective moisturizers in Perfect Purity. Ready? Here we go:
Mineral oil. That's it. The rest of the formula is just emulsifiers and control agents. Vaseline is better because a mixture of different occlusive agents blended with a good humectant will moisturize more effectively than just a high level of mineral oil.
In addition, Vaseline has a better balanced emulsion system so I'd expect it to be more stable and more aesthetically pleasing. Finally, for what it's worth, the amount of aloe in either formula is pretty much irrelevant.
And that brings us to the second part of the discussion – what is aloe and is it or isn't good for skin?
What is aloe vera?
Aloe vera gel is harvested from the aloe vera plant by cutting open the leaves and collecting what oozes out. This thick, clear "ooze" is known as a mucilage. The term mucilage comes from the work "mucus" or it least it comes from the same Latin root. Talked about pituitous.
The gel is sterilized, through Pasteurization, and filtered. It can be sold that way or it can be spray dried and turned into a powder.
Most of the mucilage is water about 99.5%. The other 0.5% is a combination of mucopolysaccharides, choline and choline salicylate.
The polysaccharides include pectins, some celluloses, and sugars like mannose derivatives. It also contains amino acids, lipids, and sterols like lupeol.
Interestingly, the specifications for aloe allow it to contain 1 ppm arsenic, 2 ppm lead and 0.01 ppm mercury.
What does aloe do for skin? Here's the good news. This stuff really works.
According to Dr. Zoe Draelos, MD a dermatologist who is frequently quoted on matters of cosmetic science, aloe vera is a good treatment for burns.
Mucopolysaccharides are film formers that create a thin, protective covering over the burn as the aloe dries; this film helps shield exposed nerve endings. Choline salicylate (which is chemically similar to the active ingredient in muscle rub creams) is an anti-inflammatory that soothes burned skin.
WHO agrees that it works for burns. "Aloe Vera Gel has been effectively used in the treatment of first- and second-degree thermal burns and radiation burns. Both thermal and radiation burns healed faster with less necrosis when treated with preparations containing Aloe Vera Gel." I saw at least one test that compared it to a petroleum jelly coated gauze and it was statistically better. http://apps.who.int/medicinedocs/en/d/Js2200e/6.html
But wait, there's more! Aloe also has anti-inflammatory properties. There both in vitro and in vivo studies showing aloe is reduces acute inflammation (at least in rats.) The mechanism appears to be based on enzyme active and through inhibition of prostaglandin F2. The sterol components of aloe (specifically lupeol) are thought to be responsible.
Sounds great, doesn't it? But here's the bad news: aloe is effective only under very specific conditions.
Things to look for in aloe product
A lot of aloe lotions contain aloe powder. But Dr. Draelos points out that reconstituted powdered aloe vera doesn't contain the same 0.5% of goodies that make the aloe work. That means it won't have the same activity.
The research summarized by WHO confirms this. They say …"At present no commercial preparation has been proved to be stable. Because many of the active ingredients in the gel appear to deteriorate on storage, the use of fresh gel is recommended."
In addition, WHO says that concentrations of between 10% and 70% of the fresh gel are required to get the benefits. That's a lot! (The described dose or posology)
So, it seems unlikely that most of the aloe lotion products on the market will provide all the benefits we described. Don't have the right posology. It's a poser!
If you're still determined to use aloe here are a couple of things to look for. First make sure you're getting the right kind of aloe.
Actually, the first step is to make sure you're getting aloe AT ALL. One of the products that Gemma asked about in her email was "Dermasil Aloe Fresh." But when you look at the ingredient list it doesn't actually contain any aloe! (Of course this could be a typo on the ingredient list but still…come on!
But back to the right kind…To make sure you're not getting the reconstituted version look for "juice" in the ingredient name. Allowed names include "aloe barbadensis leaf juice" or just "aloe vera juice." If it says aloe or aloe extract you not getting the right stuff. (Mention difference between different INCI versions. 2nd edition vs 9th edition.
Second, look for high concentrations. When formulating natural cosmetics, you won't find 10 to 70% in a typical lotion but there are products on the market that use aloe at this level. One that we found is Jason Natural Cosmetics Aloe Vera Super Gel. It's not fresh but this kind of product has the best chance of providing aloe benefits – just keep in mind that it won't replace a conventional moisturizer because it doesn't contain the type of ingredients we talked about at the top of the show.
Aloe is an effective natural ingredient but only when used fresh and at high concentrations. Most commercial products won't provide the full benefits you get from the plant itself.
We should mention that Gemma has her own blog which is  visagemaquillage.blogspot.com
Ingredient lists
Vaseline Intensive Care Aloe Fresh lotion ingredients:
Water, glycerin, stearic acid, isopropyl myristate, mineral oil, glycerl stearate, glycol stearate, dimethicone, peg-100 stearate, petrolatum, cetyl alcohol, tapioca starch, phenoxyethanol, magnesium aluminum silicate, methylparaben, acrylates/c10-30 alkyl acrylate crosspolymer, fragrance, propylparaben, disodium edta, xanthan gum, stearamide amp, aloe barbadensis leaf juice powder, titanium dioxide (cl77891)
Perfect Purity:
Water, stearic acid, cetyl alcohol, glycerol monostearate, mineral oil, triethanolamine, carbomer, aloe vera, tocopheryl acetate (vitamin e) , propylene glycol, diazolidinyl urea, iodopropynyl, butylcarbamate, DMDM hydantoin, fragrance, Yellow 5 (CI 1940) Blue 1 (CI 42090)
Jason Aloe Vera Super Gel ingredients
Aloe Barbadensis (Aloe Vera) Leaf Gel, Aqua (Purified Water), Vegetable Glycerin, Allantoin, Polysorbate 20, Panthenol (Vitamin B5), Potassium Carbomer, Argnine, Natural Menthol, Benzyl Alcohol, Potassium Sorbate, Sodium Benzoate, Chlorophyllin-Copper Complex, Fragrance Oil Blend
Dermasil Aloe Fresh lotion:
Water, glycerin, Petrolatum, Mineral Oil, Stearic Acid, Dimethicone,, Glycol Stearate, Glyceryl Stearate, Peg-40 stearate, Cetyl alcohol, Cetyl Acetate, sodium hydroxide, fragrance, dimethicone, phenoxyethanol, carbomer, Helianthus Annus (Sunflower) Seed Oil, disodium edta, Acetylated Lanolin, methylisothiazolinone, iodopropynyl butylcarbamate, magnesium aluminum silicate, lecithin, Borago Officinalis Seed Oil, Cholesterol, Ascorbyl Palmitate, Prunus Amygoalus Dulcis (Sweet Almond) Oil, Ethylene Brassylate, Santalium Album (Sandalwood) Oil, Rosa Damascena Extract, Vanilla Planifolia Fruit Extract, Stearmide Amp, Disodium Edta, Methylparaben, Propylparaben, Dmdm Hydantoin, and other Ingredients. Helianthus Annus (Sunflower) Seed Oil, Glycerin
Are serums really necessary?
Sheila asks…Thank you for recommending The Age Fix. I read the book and have throughly enjoyed it. My question is are the use of serums really necessary?
I'm glad to hear you enjoyed The Age Fix! Remember that's the book by friends of the Brains Dr Tony Youn who runs the Celebrity Cosmetic Surgery website. Very entertaining! Check it out.
First let's talk about serums. Unfortunately, there isn't a simple answer because the term "serum" is used differently by different companies. 
All it really tells you is the consistency of the product – it's not a liquid, or a cream or a lotion. I think in most cases the term has just come to mean "a product with a heavy consistency." Typically clear and applied with a dropper or some other controlled dispensing packaging.
Whether or not a product provides a benefit is not typically dependent on the product form but rather the active ingredients it contains. For example, a serum with retinol? Probably worth the money. Unless you're using a cream or lotion with retinol in which case you don't need both. What about a serum with chamomile extract? Probably won't provide much benefit.
So maybe the question shouldn't be "are serums necessary?" But rather something like "which active ingredients are necessary to provide the benefit I'm looking for." Once you've decided that you can decide which product form is best for you.
Is this a good nail oil package?
Sonja in our Forum says…. A lot of nail art bloggers and Instagrammers swear by this nail oil pen, but I can't help but wonder if packaging nail oil this way is safe. The pen has a brush on one end and the oil comes out through the brush, which you can sweep across your cuticles and nails. I can see how it's =convenient, but I worry that the brush would pick up germs from my hands and then the germs could migrate back into the reservoir of oil and contaminate the product. Is this kind of packaging safe?
I don't think there's much to worry about because this kind of product is not very prone to microbial contamination. If you look at the ingredients you'll see that there's no water in the product which means bacteria and mold won't be able to grow very well.
Plus, the pen packaging prevents direct exposure to moisture so the product is likely to stay uncontaminated. For anhydrous products that are more exposed to the moisture in the environment (think of a bath oil in an mouth container) there's still concern but I don't think there's much danger here.
Simply Pure Hydrating Oil Pen ingredients: Jojoba Wax Ester, Extra Virgin Olive Oil, Grape Seed Oil, Fragrance Oil Blend, Olive Squalane, Vitamin A Oil, Vitamin E Oil, Tea Tree Oil http://www.myblisskiss.com/simply-pure-hydrating-oil-pen/