Can hair straighteners stop your hair from being naturally curly?
Sarah asks…Can straightening your hair for a long time change it from being very curly to being naturally straight?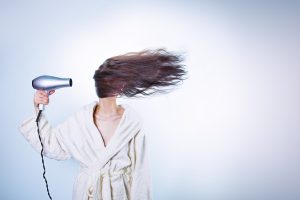 That's like saying bleaching your brown hair for a long time will make you naturally blonde. It doesn't work that way because you're only treating the hair that's already grown out of the scalp. The chemistry and biology that determines if your hair is curly or straight happens BELOW the scalp.
Yes, there are two main factors that control hair shape. One is the shape of the follicle. We've used this analogy before but you can think of hair as little tubes of Play Doh that are squeezed out of holes in your scalp. If the scalp hole is perfectly round the hair is round and very straight. If the hold is a little more oval, the hair has an elliptical shape which causes it to twist and turn into a curl. And if the hole is sort of kidney-bean shaped, the hair grows out to be kinky (like African-American hair.) There's nothing you can do about this although it may change as you age and experience hormone changes.
The other factor is the protein composition of the cortex of the hair. That's the core of hair that gives it its strength and it's made up of protein bundles that are grouped into two different regions: one is called the Ortho Cortex and the other is the Para Cortex. These regions absorb water differently and this differential absorption causes one protein region to swell more than the other. That causes hair to twist and turn as it absorbs moisture. That's why hair gets curlier in high humidity.
The chemistry and biology involved with these factors take place deep in the follicle which is buried beneath the scalp. Once the hair is extruded from the follicle and it pokes out through the scalp, its shape is set. Nothing that straightening products do to the dead hair on top of your head affects the living, growing cells under the skin.
These straightening products work by modifying the molecular bonds inside hair to change the shape from curly to straight. Temporary straightening products modify the hydrogen bonds which are very weak. As soon as your hair gets wet the hydrogen bonds reset and your hair reverts to being curly. Temporary treatments include heat processing like flat ironing. Most styling products work this way as well.
On the other hand, semi-permanent and permanent straightening products modify the disulfide bonds in hair. These are sulfur-sulfur bonds which are very strong. You have to break these bonds so the hair loses its curly shape, then you pull the hair straight and then create new bonds that hold this new shape. These disulfide bonds are hard to break and reform but once you've straightened the hair this way it'll stay straight for a long time.
These long lasting straighteners use similar technology to permanent waves and relaxers. Some products use formaldehyde or formaldehyde-like chemicals because they are good at forming cross linked bonds in the hair which keeps it straight.
You should be aware of the tradeoff involved in using these products though: the longer lasting the straightening effect, the more damaging it is. That's because not all the bonds are reformed once their broken. That means your hair is weaker after permanent straightening so it will break more easily.
I just learned something about curly hair that I think is interesting. Mechanical engineers at Purdue University used an infrared microscope to study how hair reacts to heat and they found that curly hair loses heat faster than straight hair. That's because the shape and surface area of hair determine how fast heat dissipates – and straight hair holds on to heat for a longer period to time.
This research is important because it can help consumers predict how much damage they're doing to their hair during heat styling. It could lead to the development of new styling products that are designed to work better on curly hair. Better living through chemistry!
Can you believe this anti-aging ingredient list?
PMA asks…Can I believe Skinceuticals A.G.E Interupter when it says it contains 4% of blueberry and 30% of proxylane?
I think the more urgent question is…what the hell is proxylane? That's how it's spelled on the Skinceuticals website: p-r-o-x-y-l-a-n-e. One word. Proxylane. But there is no such thing. There is however, an ingredient called Pro-Xylane. Pro – dash- Xylane (which is a type of sugar.) (Pro-xylane, by the way, is a trade name for hydroxypropyl tetrahydropyrantriol.) The fact that they couldn't even spell the name of one of their key ingredients correctly is the first strike against them in terms of believability. But there's more.
Let's look at the claims.
Reduces the appearance of skin creping and thinning

Visibly improves the appearance of fine lines, wrinkles, and skin texture

Restores water and nutrients to improve the look of skin firmness

Comforts dry, aging skin
Paraben-, alcohol-, and dye-free.
These are pretty generic claims…note the use of weasel words like "reduces the appearance of" and "improve the look of."
If you do the right kind of test you can usually get enough data to support these kinds of claims. But the last claim…the one about paraben free. That should be a no brainer right? All you have to do is not use parabens. BUT if you look at the ingredient list on their website you'll see that the product contains both ethylparaben and methylparaben! In terms of believability, that's strike two!
Now let's get back to the core of PMA's question which was about the concentration of 2 key ingredients. The only way we can tell FOR SURE is to look at the actual formula. We don't have access to that but we do know that by law ingredients must be listed in order of descending concentration until you get to ingredients that are used at 1% or less. Below that level you can list them in any order.
The first four ingredients are: Water, Propylene glycol, dimethicone, and Pro-xylane. Skinceuticals is telling us that the Pro-xylane is present at 30%. Given the ingredient label law we just mentioned we know what the first three ingredients must be present at HIGHER levels that 30%. But if that were true the first 4 ingredients would total up to at least 120% of the formula which can't be right either. Something is screwed up!
Ok but what about 4% Blueberry? The INCI name for blueberry extract is vaccinium myrtillus fruit extract. It appears on the ingredient list almost at the end, AFTER EDTA and parabens which are used at much less than 1%. If blueberry was present at 4% it would HAVE to appear much higher on the ingredient list. So this seems very sketchy too.
So what's gong on here? The wording on their website says that key ingredients are "4% Blueberry extract and 30% Proxylane.™" I wonder if it's possible that they're referring to the concentration at which the ingredients are supplied to them. In other words, if Pro-xylane is sold as a 30% solution, then they could be saying, "hey, we're using 30% Pro-xylane in our product" In other words, they're referring to the concentration of the ingredient itself as purchased, not the concentration used in their final product. But that still sounds very sketchy to me too. That's strike 3.
Yeah, in terms of ingredient list credibility, this product is just a hot mess. What makes even less sense to me is when you look at who owns Skinceuticals. It's L'Oreal who typically is very careful and accurate with claims like these. Maybe the parent company is letting this brand play a little fast and loose the the facts. But the important thing is that if you want to try this technology, it's expensive. ($160 for a 1.7 ounce jar.) Wouldn't it be nice if L'Oreal made a cheaper product?
Well, they do! Here's a L'Oreal's Triple PowerTM Deep-Acting Moisturizer has the same active ingredient with a similar formulation that's only $25 for the exact same amount.
http://www.skinceuticals.com/a.g.e.-interrupter-635494345001.html?cgid=anti-aging-products#start=8&cgid=anti-aging-products
http://www.lorealparisusa.com/products/skin-care/products/facial-moisturizers/revitalift-triple-power-deep-acting-moisturizer.aspx?shade=Triple-Power-Deep-Acting-Moisturizer
Aqua / water / eau, propylene glycol, dimethicone, hydroxypropyl tetrahydropyrantriol, cyclohexasiloxane, isohexadecane, glycerin, synthetic wax, dimethicone/peg-10/15 crosspolymer, aluminum starch octenylsuccinate, ci 77163 / bismuth oxychloride, phenoxyethanol, magnesium sulfate, ethylhexyl hydroxystearate, salicyloyl phytosphingosine, acrylates copolymer, methylparaben, ethylparaben, disodium edta, vaccinium myrtillus extract / vaccinium myrtillus fruit extract, parfum / fragrance, butylphenyl methylpropional, coumarin
Is this makeup ingredient ALWAYS a sunscreen?
This question comes from our Forum… Hi all – just wondering if all skin care or make up products that contain titanium dioxide provide some amount of sun protection even though an SPF is not listed on the bottle? I see it listed in some of my moisturizers, serums, etc. for example: Olay Eyes Lifting Serum.
Titanium dioxide is not just a sunscreen. It's also used to whiten a formula or to make it more opaque. I think that's the case in the Olay product you mentioned. Based on where it appears on the ingredient list there's not enough there to be a functional sunscreen.  In this case its at the bottom so its less than 1% so its not a sunscreen which is up to 20%.
Water, Dimethicone, Glycerin, Niacinamide, Sdimidetheicone Crosspolymer, Polymethylsilsesquioxane, Polyethylene, Panthenol, Palmitoyl Pentapeptide-4, Camellia Sinensis Leaf Extract, Tocopheryl Acetate, Allantoin, Polyacrylamide, Caprylyl Glycol, 1,2-Hexanediol, Phenoxyethanol, C13-14 Isoparaffin, Laureth-4, Dimethiconol, Acrylates/C10-30 Alkyl Acrylate Crosspolymer, Laureth-7, Sodium Peg-7 Olive Oil Carboxylate, Disodium Edta, Triethoxycaprylylsilane, Titanium Dioxide, Mica, Iron Oxides.
Do lip plumpers have long term effects?
Angela C asks…Just wondering if there are any long term effects to using lip plumping glosses? My favorite is by Soap and Glory, a product called "Sexy Mother Pucker."  About a minute after application the tingly stops and its a nice long wearing gloss that isn't overly goopy.   My question is – is there a downside to such products? Will using this daily prematurely age the skin on my lips or cause fine lines to appear sooner?
RS: Lip plumping products work by using an irritant to stimulate the nerves in your lips which causes that tingly feeling. They MAY stimulate histidine release which could give you some temporary swelling. As long as the product doesn't over-irritate and/or your lips and you don't develop an allergic reaction to any of the ingredients it's probably fine.  The thing to watch out for is that if you're applying this kind of product to very dry/chapped lips that puckery tingling sensation can become too intense.
Polybutene, Paraffinum Liquidum (Mineral Oil/Huile Minérale), Silica Dimethyl Silylate, Glycerin, VP/Hexadecene Copolymer, Hydroxystearic Acid, Ethylhexyl Palmitate, Silica, Calcium Aluminum Borosilicate, Mica, Parfum (Fragrance), Spilanthes Acmella Flower Extract, Propylene Glycol, Alumina, Stevioside, Butylene Glycol, Pentylene Glycol, BHT, Tin Oxide, Sodium Hyaluronate, Hexyl Cinnamal, Limonene, Linalool, Eugenol, Geraniol, Citronellol, Benzyl Alcohol, Coumarin, CI 77891 (Titanium Dioxide), CI 15850 (Red 6), CI 77491 (Iron Oxides), CI 77499 (Iron Oxides)
Beauty Science News
Skin lotions can cause you to catch on fire
http://www.bbc.com/news/uk-39308748
Do you really want beauty products that smell like this?
I saw three different news stories but they all had something in common – new products that with a rather odd fragrance profile.
The first one is a Japanese spa treatment that is pancake-scented with notes of vanilla and maple syrup. I know that different cultures embrace different scents but the idea of "hot cake hot tub" seems sickly sweet to me.
http://mentalfloss.com/article/93343/guests-japanese-resort-can-soak-pancake-scented-hot-tubs
Next, there's a new fragrance from Demeter (De-meter? Dem-etter?) Anyway, it's called Kitten Fur and it smells like the back of a kitten's neck.
Personally I'm waiting for them to develop a "wet dog" cologne.
http://www.refinery29.com/amp/2017/03/145657/kitten-fur-perfume-demeter
Finally there's a pizza flavored lip balm. This comes to us from Etsy seller is Regina Panzeca. She says it's not a bland pizza flavor because it has notes of Italian herbs, tomato, garlic. In other words, this lip gloss makes your mouth taste like all the things you brush your teeth to get rid of.
https://www.thrillist.com/news/nation/pizza-lip-balm-etsy
So there you have it – 3 products with questionable aroma-ti-city.
iTunes reviews
Robert from the UK says…Informative for Chemist Listeners as well! The episodes always bring a smile to the end of my day, when I get to enjoy Randy & Perry rip into false claims, cheeky company practices and pseudoscientific blog posts.
Wenabar says… Makes my life easier. I used to spend so much time researching and reading articles, blogs, magazines, etc. Now if I want to know something, I can count on TBB's to fill me in. I love their rapport which is a hilarious mix of nerdy-cool.
Yeoldegoldie says… Do you scour cosmetic ingredient labels with the avidity of a Lululemon-clad Yogini dissecting the food product labels at Whole Foods? Are you a critical thinker who understands that the difference between marketing hype and solid, tested, and effective anti- aging ingredients?? If so, this podcast is for you!
ChoirGeek from United Kingdom says…Super fascinating, listen asap &educate yourself on what you're putting on your skin.
Cwfjluwgjj says…I'm a guy who wears "natural" makeup to cover my blemishes, etc and I've slowly been sucked into the world of makeup and skincare. As much as I love Fat Mascara, it's so refreshing and awesome to hear guys discuss the world of makeup and beauty. Pleeeease keep this podcast going forever!
Abbielove says…Humor, Wit & hardcore cosmetic science!  I'm an Esthetician and I just love filling my beauty brain with all the scientific information from behind the cosmetic industry scenes! Do you ever want a showgram guest?